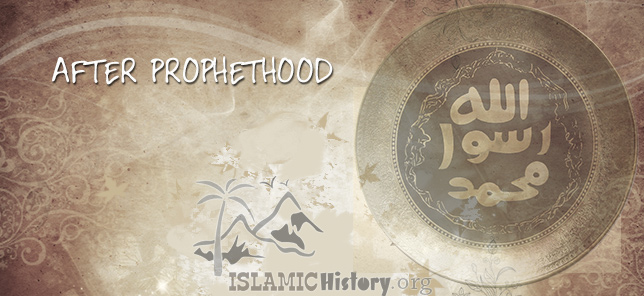 INTIMATIONS OF PROPHETHOOD:
The Messenger of Allah (may Allah bless him and grant him peace) was forty when the first glimpses of light and of his future happiness appeared. The time of his mission approached. It had always been the Divine practice that whenever the darkness had become too intense and the wickedness widespread, a Messenger appeared.
The Messenger of Allah's distaste for what he saw reached a peak. It was as if he was being guided towards a certain spiritual destination. He loved going into retreat. He was always content when he could be on his own. He used to walk away from Makkah until he was well out of sight of the houses. He got to know all the paths, the flat areas and the valleys outside Makkah. From every rock or tree he passed he heard, 'Peace be upon you, Messenger of Allah.' But when he looked around, to his right, to his left and behind him, he could see nothing but trees and rocks.
The first intimations of the future came in the form of dreams, so vivid that they were as clear as the break of day.

THE CAVE OF HIRA
The Messenger of Allah usually went to the Cave of Hira. He would remain there for several nights in a row, having taken along with him enough food to last for that time. He used to worship and pray in the manner of his ancestor, Ibrahim, the Hanifiyyah, and followed the pure human need to turn to Allah.

THE MISSION BEGINS:
The Messenger of Allah was alone in the Cave of Hira on the day destined for the start of his prophetic mission. He was forty-one years old and it was the seventeenth day of Ramadan, the sixth of August 610 C.E. Suddenly an angel appeared and said to him,
'Read!'
'I cannot read,' he replied.
Later, the Messenger of Allah, when recounting what had happened, said, 'He seized me and squeezed me as hard as I could bear and then let me go and said,
"Read !"
'I said, "I cannot read."
'Then he squeezed me as hard as I could bear a second time and let me go. Again he said, "Read."
'I cannot read.'
'Then he squeezed me a third time and let me go and said:
"Read in the name of your Lord' Who created, created man of a blood-clot. Read, and your Lord is the Most Generous, Who taught by the Pen, taught man what he did not know."'(96: 1-5)
This was the first day of his prophethood and these were the first verses of the Qur'an to be revealed.

KHADIJAH'S REACTION:
Naturally, the Messenger of Allah was alarmed by the experience. He had not known what was happening and he had not heard of anything like this ever happening before. It had been a long time since there had been a Prophet. In any case, the Arabs had only a remote connection with prophethood. He was very frightened and returned to his house trembling.
'Wrap me up! Wrap me up!' he said. 'I fear for myself! '
When Khadijah asked why, he told her what had happened. She was an intelligent lady and had heard of prophethood, prophets and angels. She used to visit her cousin, Waraqah ibn Nawfal, who had become a Christian. He had read many books and had learned much from the People of the Torah and the Evangel.
Khadijah knew the character of the Messenger of Allah better than anyone because she was his wife and close to his thoughts. She was well aware of his noble character and enviable qualities. She realised that he had always been given success and support by Allah, he was a man chosen from among His creation, whose life and conduct He was pleased with.
No one with a character like his need ever be in fear of Satan or of being affected by the jinn. That would be incompatible with what Khadijah knew of the wisdom and compassion of Allah and His way of dealing with His creation. She declared with trust and belief, strongly and forcefully,
'No! Allah would never disgrace you! You maintain close ties with your relations, you bear others' burdens and give people what they need. You are hospitable to your guests and help those with a just claim to get what is due to them.'

WARAQAH IBN NAWFAL:
Khadijah thought it would be a good idea to consult her cousin, the scholar Waraqah ibn Nawfal, and she took the Messenger of Allah to see him. When Waraqah heard what he had seen, he said, 'By the One who holds my soul in His hand, you are the Prophet of this people. The same Great Spirit has come to you which came to Musa. Your people will reject you, abuse you and drive you out and fight you.'
The Messenger of Allah was astonished at what Waraqah said, especially about the Quraysh driving him out because he knew his position among them. They had always addressed him as the 'truthful' one and the 'trustworthy' one.
In amazement he asked, 'Will the people drive me out?'
'Yes,' Waraqah said, 'No man has ever brought anything like what you have brought without his people opposing him and fighting him. If I am alive on that day, and have already lived a long time, I will give you strong support.'
After this first revelation there was a long gap before the revelations began again. Then the Qur'an started to come down at regular intervals over the following twenty-three years.

KHADIJAH'S ISLAM AND HER CHARACTER:
Khadijah hated the behaviour of the people of Makkah, as anyone of sound mind would have detested the atrocities committed by them. She was the first to believe in Allah and His Messenger. She was always at her husband's side helping him through difficult times. She used to lighten his burden and offer him comfort while assuring him of her confidence in his Message.

ALI IBN ABI TALIB AND ZAYD IBN HARITHAH ACCEPT ISLAM:
After Khadijah, Ali ibn Abi Talib (may Allah be pleased with him) accepted Islam. He was ten years old at the time and living in the house of the Messenger of Allah. When Abu Talib went through a period of hardship during a famine, the Messenger of Allah had taken his son Ali into his own home and brought him up.
Zayd ibn Harithah, the freed slave of the Messenger of Allah, whom he had adopted, also became a Muslim. The Islam of these people reflected the beliefs of those who knew the Messenger of Allah best. They had witnessed his truthfulness, sincerity and good behaviour. The people who live in a house always know best what is in it.

ABU BAKR IBN ABI QUHAFAH ACCEPTS ISLAM:
Abu Bakr ibn Abi Quhafah also accepted Islam. He had a high position among the Quraysh because of his intellect, strength and sense of justice. He made his Islam known. He was a simple likeable man who knew the full history of the Quraysh. He was a merchant known for his good character and fair dealing. He began to call others to Allah and those of his friends whom he trusted would come and sit with him to discuss the new ideas.

QURAYSH NOBLEMEN ACCEPT ISLAM:
Through Abu Bakr's work, some of the powerful Quraysh noblemen became Muslims. Uthman ibn Affan, Zubayr ibn al-Awwam, Abdur-Rahman ibn Awf, Sa'd ibn Abi Waqqas and Talhah ibn Ubaydullah were among those he brought to the Messenger of Allah.
They were followed by other influential men of the Quraysh, including Abu Ubaydah ibn al-Jarrah, al-Arqam ibn Abi'l-Arqam, Uthman ibn Maz'un, Ubaydah ibn al-Harith ibn al-Muttalib, Sa'id ibn Zayd, Khabbab ibn al-Aratt, Abdullah ibn Mas'ud, Ammar ibn Yasir, and Suhayb (may Allah be pleased with them all).
Men and women flowed into Islam until everyone in Makkah was talking about the new faith.

THE CALL TO ISLAM ON MOUNT SAFA:
The Messenger of Allah kept his mission secret for three years. Then Allah commanded him to display His religion openly, saying, 'Loudly proclaim what you are commanded and turn away from the idol-worshippers.'(l5: 94) He also said, 'Warn your clan, your nearest kin, and lower your wing to those of the believers who follow you' (26: 214-15) and 'Say: I am the clear warner.' (15: 89)
The Prophet climbed up on to the mountain of Safa and called out as loudly as he could, 'Ya Sabahah!'
This was a well-known cry used to assemble the community in an emergency. When there was any danger of an enemy attacking a city or a tribe, the call, 'Ya Sabahah' would ring out. The Quraysh were always quick to respond. They gathered round the Messenger of Allah, who said, 'O Banu Abdul-Muttalib! O Banu Fihr! O Banu Ka'b! If I told you that there were horses on the other side of this mountain about to attack you, would you believe me!'
The Arabs were practical and realistic. They saw in front of them a man noted for his truthfulness, trustworthiness and sincerity standing on a mountain. He was able to see both what was in front of him and behind him, while they could only see what was in front of them. Their intelligence and sense of justice allowed them to confirm this statement.
'Yes,' they replied.
Then the Messenger of Allah said, 'I warn you of a terrible punishment.'
The people were silent, except Abu Lahab who said, 'May you perish for this! Did you only summon us here for this!'

ENMITY OF THE QURAYSH AND ABU TALIB'S CONCERN:
When the Messenger of Allah openly proclaimed the call to Islam and called out the truth as he had been commanded to do by Allah, his people did not distance themselves from him nor reject him. However, when he criticised their gods, they regarded him as a menace and united in opposition against him.
His uncle, Abu Talib, concerned about the Messenger of Allah protected him and stood up for him. The Prophet continued in his mission, loudly proclaiming the truth. Nothing deterred him and Abu Talib continued to Care for him and defend him.
Eventually, a group of men of the Quraysh went to Abu Talib threatening, Abu Talib! Your nephew has cursed our gods and criticised our religion and ridiculed our Customs and called our fathers misguided. Either leave him to us or there will be a split between us and you. You have the same religion and creed as we do.'
Abu Talib spoke reassuringly to them, and they left satisfied However, the Quraysh constantly discussed the Messenger of Allah and goaded each other on. They went to Abu Talib a second time, saying, Abu Talib! You have age, honour and position among us. We had hoped that you would stop your nephew, but you have not done so. By Allah, we cannot endure any longer this cursing of our fathers and ridiculing of our customs and criticism of our idols. Let us have him or we will put him and you in such a position that one or other of us will be destroyed.
The division and enmity of his people was a terrible burden for Abu Talib but he did not want to surrender the Messenger of Allah to them. He said, 'Nephew, your people have come to me with threats. Spare me and yourself and do not burden me with more than I can bear.'
If the sun had been placed in my right hand and the moon in my left …
The Messenger of Allah saw that Abu Talib was very upset by what had happened and was finding it hard to carry on helping him. He said, 'Uncle, by Allah, if they were to place the sun in my right hand and the moon in my left hand on condition that I abandon this business, I would still not leave it until Allah makes it victorious or I die doing it.'
The Messenger of Allah wept, then rose and turned away. Abu Talib called out to him, 'Turn round, nephew!'
The Messenger of Allah returned. Abu Talib told him, 'Nephew go and say whatever you like. By Allah, I will never surrender you to anyone.'